Finding an Apartment/Rental Property in Las Vegas
Essential Steps for Renting an Apartment in Las Vegas: Budgeting, Location, Online Resources, Real Estate Agent
Determine your budget: Determine how much you can afford to spend on rent and utilities before beginning your search.


Decide on a location: Decide which part of Las Vegas you want to live in based on your lifestyle, budget, and proximity to work, school, and amenities.


Use online resources: Check out online resources such as Craigslist, Zillow, and Apartments.com to find available units that meet your criteria.


Work with a real estate agent that works specifically with rental properties: Consider working with a licensed real estate agent who specializes in rental properties in Las Vegas. They can help you find properties that meet your specific needs and budget.


Research the neighborhood: Before signing a lease, research the neighborhood and the property management company to ensure that it's a safe and secure area.


Visit the apartment in person: Always visit the apartment in person to get a sense of the space, the amenities, and the surrounding area.


Read the lease carefully: Before signing a lease, carefully read and understand all the terms and conditions, including the rent, lease length, and security deposit.


Be prepared: When you find an apartment you like, be prepared to move quickly. Have all the necessary paperwork, such as proof of income and identification, ready to go so you can secure the apartment before someone else does.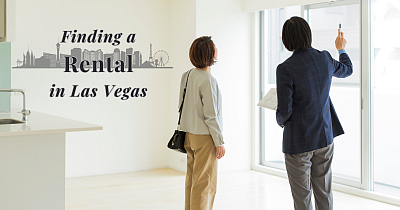 Finding the Perfect Short-Term Rental in Las Vegas: Location, Online Resources, Reviews, and Planning Ahead
Look for short-term rentals: Look for rental properties that offer short-term leases, such as vacation rentals or furnished apartments, that cater to tourists and visitors.


Consider location: Consider the location of the rental property and its proximity to tourist attractions, public transportation, and amenities.


Use online resources: Use online resources such as Airbnb, VRBO, and HomeAway to find rental properties that meet your needs and budget.


Check reviews: Check reviews of the rental property and the property management company to ensure that they have a good reputation and provide a positive rental experience.


Plan ahead: Plan ahead and book your rental property well in advance, especially if you are visiting during peak tourist seasons, to ensure availability and to get the best price possible.