Need Help Finding a Real Estate Agent in the US?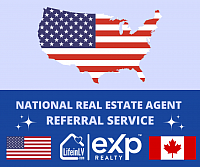 Are You Looking for a Trusted Real Estate Professional to Assist with Buying, Selling, or Investing? We Can Connect You!
Are you in need of a trusted real estate professional who can assist you with your buying, selling, or investment needs?
Look no further! As a real estate consultant, I have the expertise to connect you with a professional real estate agent anywhere in the United States and Canada and 16 other countries! Whether you're searching for your dream home, selling your property, or exploring investment opportunities, I can refer you to an experienced and knowledgeable agent who will guide you through the entire process.
From the very beginning, I will work closely with you to understand your unique requirements. Whether it's determining your budget, identifying your preferred location, or discussing specific property features, I am here to ensure that your needs are met. Once we have established your criteria, I will leverage my network of trusted agents to find the perfect match for you.
Rest assured that the agents I refer are carefully selected based on their expertise, professionalism, and commitment to client satisfaction. They will handle all aspects of your real estate transaction, from conducting market research and showcasing properties, to negotiating offers and guiding you through the closing process. With their guidance and my ongoing support, you can feel confident that you are receiving exceptional service every step of the way.
Don't hesitate to reach out to me today to begin your real estate journey. I am excited to help you achieve your goals and connect you with the perfect real estate agent who will prioritize your needs and deliver results. Contact me now to get started on your path to success in the world of real estate!