Need Help Finding a Real Estate Agent in the US?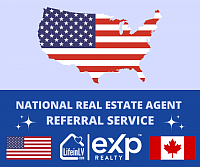 Agent Referral Service:
  As a real estate consultant, I have the expertise to refer you to a professional real estate agent in any part of the United States and Canada. Whether you're looking to buy, sell, or invest in a property, I can connect you with an experienced and knowledgeable agent who can guide you through the real estate process. From determining your budget and preferred location, to negotiating offers and closing the deal, I am here to ensure that you receive exceptional service and achieve your real estate goals. Contact me today to get started on your real estate journey!