Southern Nevada Real Estate Market Statistics
Welcome to The Real Estate Market Statistics of Las Vegas!
Stay updated on the dynamic Las Vegas real estate market through our weekly home sales statistics. We provide insights into various aspects of the market, helping you make well-informed decisions when buying or selling your home.

Here's a snapshot of the latest statistics for Single Family Homes and Condos in Las Vegas:
SOLD: Discover the number of single-family homes that have been successfully sold in the Las Vegas area.
AVAILABLE FOR SALE: Get an overview of the single-family homes currently up for sale.
MONTH OF AVAILABILITY: Learn about the availability of homes on the market in a specific month.  

MEDIAN PRICE SOLD: Find out the median price at which single-family homes are selling.
0-30 Days on Market: Get insights into homes that were sold within the first month of being listed.
31-60 Days on Market: Understand the dynamics of homes that took 31 to 60 days to sell.
61-90 Days on Market: Explore the segment of homes that sold within 61 to 90 days of being listed.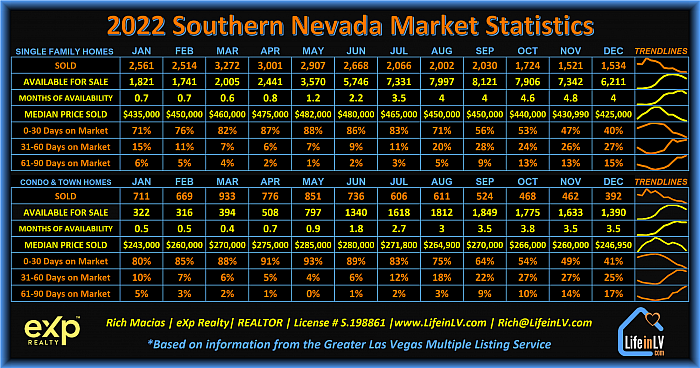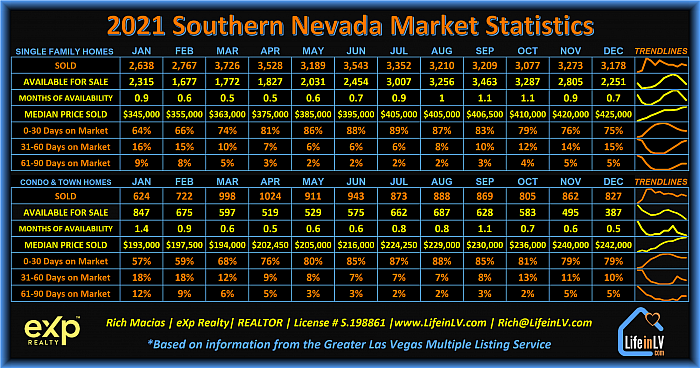 My goal is to provide you with valuable data to navigate the Las Vegas real estate market effectively. Whether you're a potential homebuyer or seller, these statistics offer a comprehensive view of the market trends. Stay tuned for regular updates and feel free to reach out if you have any questions or need further assistance.
Thank you for visiting our page! Don't forget to share this valuable information with your friends and family who are interested in the Las Vegas real estate market.
For more information and personalized assistance, you can contact:
Rich Macias
Phone: (702) 371-3573
Email: Rich@LifeinLV.com
Brokered by eXp Realty.
Lic # S.198861
#lifeinlv #SouthernNevadaRealEstate #HousingMarketInsights #HomeSalesStatistics #PropertyValues #RealEstateTrends